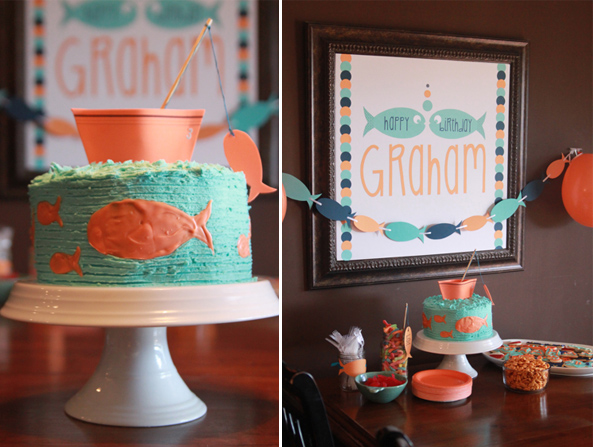 For Graham's 3rd birthday, we went with a fishing theme. He really wanted another train party, but I drew the line. (I can't believe how much he still loves his trains!!!) I really had fun with the fish theme. Don't you think that Pinterest and the web is totally changing the face of children's birthday parties forever?!?
The invitations: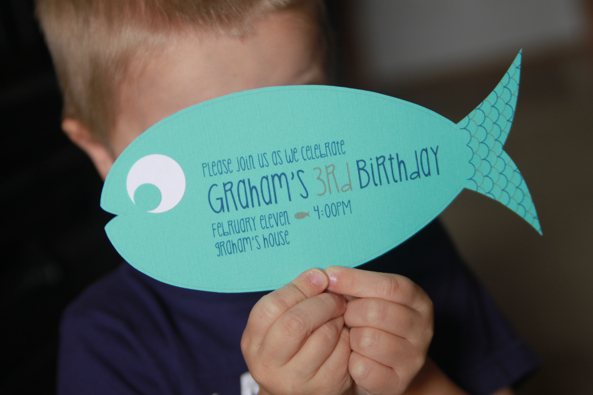 Want to download and print your own invitations like this? Visit my Etsy shop here.
The fish on his cake were made with orange candy melts. They were sort of an ordeal and I was not happy with them at all. One of those things you start and wonder why. I put wax paper of the printout of the fish shape and spread the candy to match the shape. But since the cake is round, I needed the chocolate to dry curved. Serious challenge. I'll spare you the details since it didn't work out that well. I think it's time for me to get over my fear of fondant.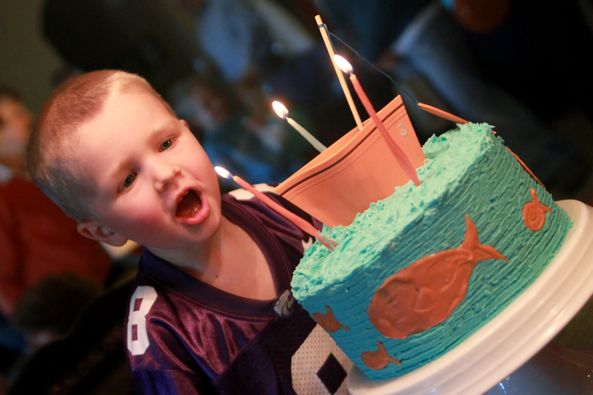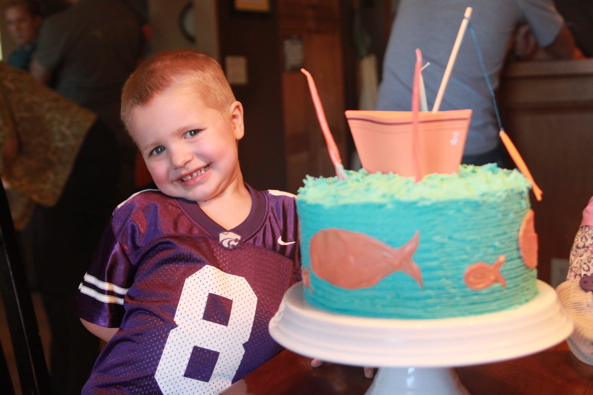 I had some more sugar cookies made and I LOVED the bobber cookie and the fish bowl. Almost too cute to eat. Almost, I say.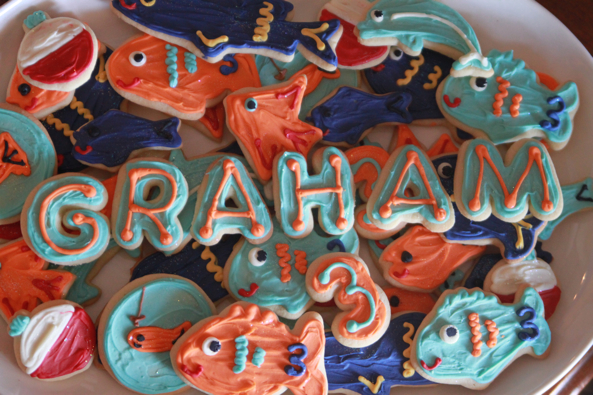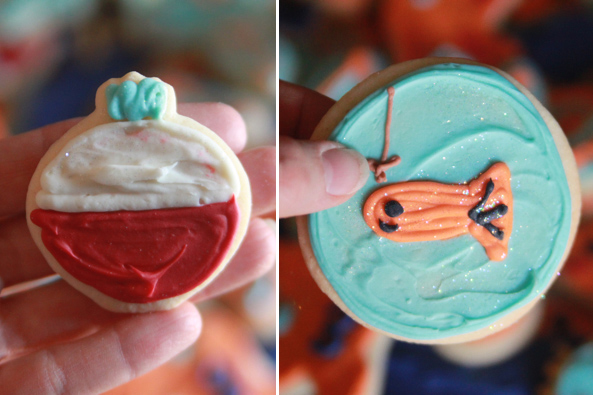 We set up a fishing game over the stairway, which turned out to be a pretty big hit. The kids played and played and played. They got real creative about what they could "catch" on the drop side.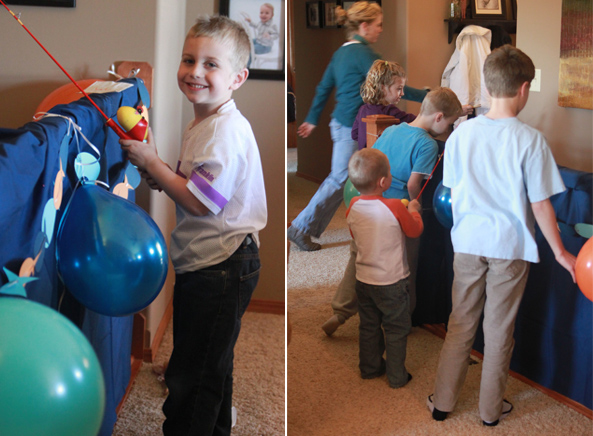 For favors, I made these really simple goldfish bags and fishbowls of gummy fish.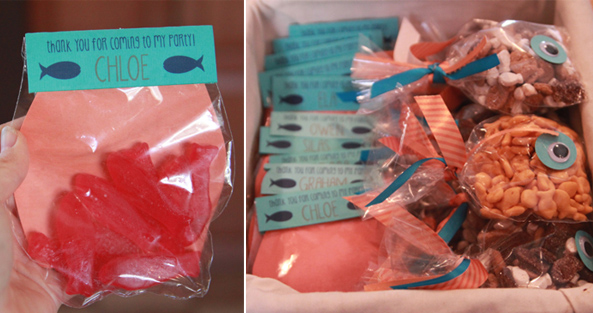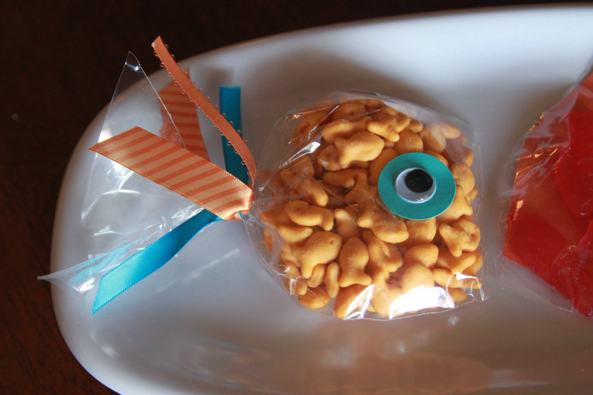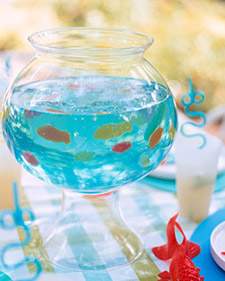 Another thing I tried, but didn't get a picture of, was blue jello with gummy fish in it. Here is Martha Stewart's photo. Ours turned out a little murky – but it tasted great! I also attempted to make some water bottle aquariums (made from water, baby oil, a foam fish and blue food coloring in a water bottle) – they were fun but the kids lost interest in them pretty quick.


For a gift, we took Graham to the pet shop and let him pick out a goldfish. Sadly, the party balloons lasted longer that "Three", as Graham named him. We are NOT a family that should have pets!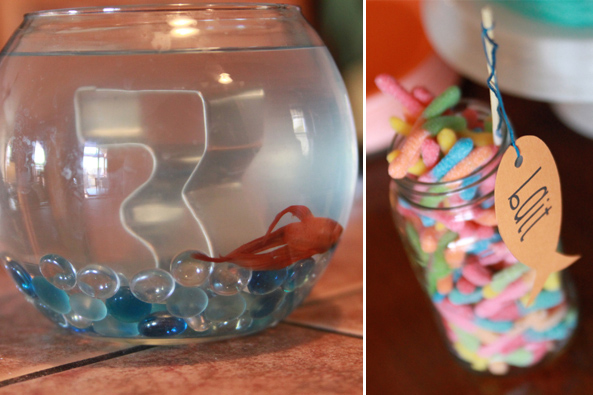 We also had a fish fry with fish sticks for the kiddos. My husband jumped at the excuse to pull the fryer down from storage. I was on board cause I can never pass up an opportunity to have fried okra. One of my big weaknesses.
Overall, Graham had a great day and I had a lot of fun looking for and trying out all the fishy ideas. If you want to see any of the other ideas I collected, you can check out my Pinterest board.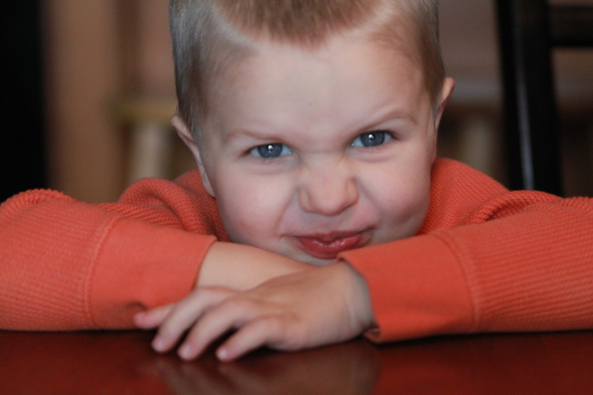 Happy third birthday to my little man! He is getting more and more ornery every day! In this photo, he is giving his "Frank Martin Stare". If you're not from Kansas, you probably don't know what that means. But around here, it always gets a giggle. To which he replies, "Frank Martin doesn't smile!!" (Frank Martin is the head coach of the Kansas State Wildcats basketball team and has become well-known for his facial expressions, including a pretty mean stare.)