With a new baby coming in December, we have been talking lots about where to put all these kids! We have three bedrooms upstairs and one (plus and office) downstairs. Currently, each kid has their own room, and the extra room downstairs is for guest and toys. So, the big decision is: do we combine a couple kids so that they can all be upstairs with us? OR, do we move Lilah downstairs so they can each have their own space. And most importantly, their own sleeping privacy.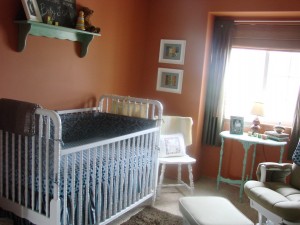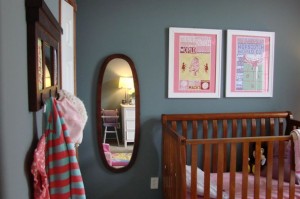 We go back and forth on the decision. But it's looking like we are going to move, Lilah, who will be 3-and-a-half, downstairs. Then Graham will go from his nursery to Lilah's current room.
So, this leaves me with a big redecorating project! I get easily overwhelmed with just one room, so doing the two is definetly throwing me. First step will be to paint both the spaces. Lilah's room is especially gross – I am looking forward to covering that mess up!
I have been doing a little research for ideas and colors to use, keeping in mind that I don't want to spend much money on these rooms. Fortunately, we don't need to buy much furniture, except another crib for Graham. There are lots of nice places to look for inspiration out there, like OhDeeDo or Flickr for example. These can make me want to go over the top, but I am going to try to keep myself grounded.
Today I came across this mural that I am wondering if I could do something similar to for Graham's room. I am loving the font and subtle color variations they used. Seems simple enough, right? Stay tuned for future updates on this project!