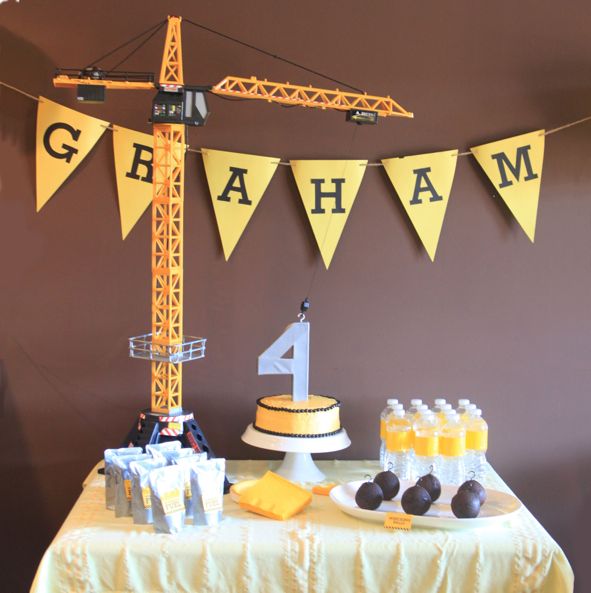 My son is in love with cranes. And dump trucks. And diggers. And scoops. But, especially cranes.
So for his fourth birthday, we went that theme. He received a GIANT toy remote control crane for Christmas, so I thought it would be the perfect "prop".
If you're considering throwing a construction themed party, I have one piece of advice for you. BUY DUCT TAPE. I feel like I wrapped the whole house in duct tape before the weekend was over! But I really liked it and feel like I will be using duct tape in more future projects in my life.
For a easy game, I wrapped miscellaneous boxes in newspaper and fashioned a wrecking ball out of duct tape to hang from the ceiling. We let the kids build towers out the boxes, then swing wrecking ball at them to see how many they could knock down. The kids – age 2-6 – all really liked it!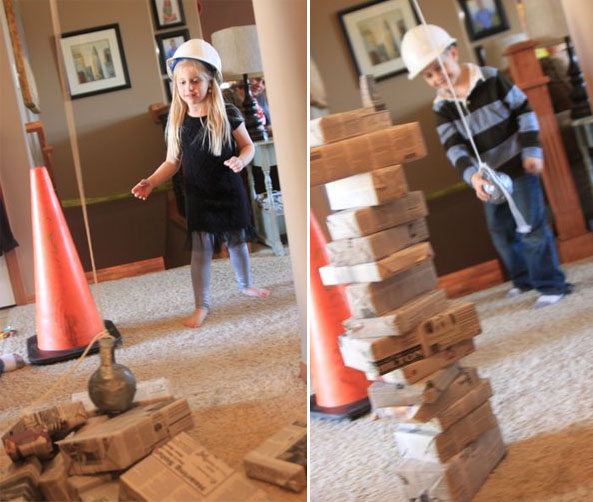 A week ago, I took a Social dessert table class that was taught by the very talented Sandra Denneler. (See some details on that classHERE.) One of the projects she shared was a heart-shaped molded brownie box with candy inside. (See the tutorial on that HERE.) I loved her idea and decided to adapt it to my party theme by making wrecking balls. These turned out super cool! I really should have remembered her tip about over baking the brownings, because mine did not hold up, unfortunately. If you do this project – OVERCOOK YOUR BROWNIES!!!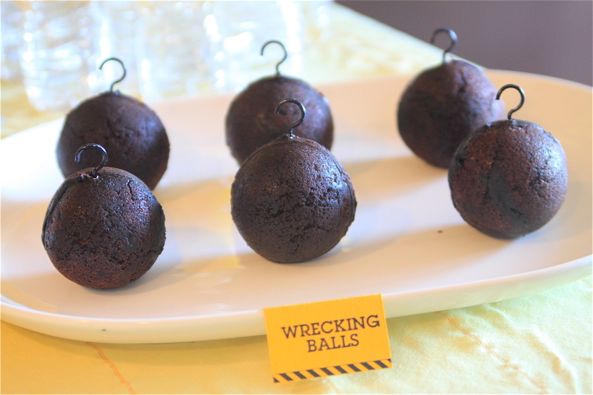 Some other fun things we did were color-your-own coffee mugs (the kind with the paper insert from the dollar bin), tool belt/apron favors for the kids to take home and color, and a "build-your-own-burger" lunch.
Graham thought the crane holding up his birthday number was pretty cool. He was pumped to get to raise the number off. We actually sang happy birthday to him then, instead of when he blew his candles out! Happy Birthday to my little man!