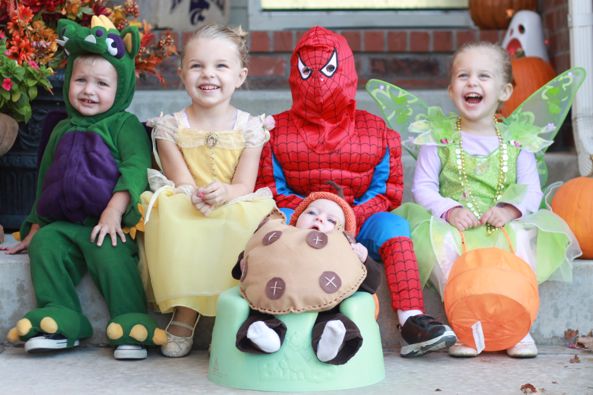 Well, we survived the week of Halloween! The kids loved it and I am exhausted! They were so cute trick-or-treating last night that I seriously wasn't ready to stop. Each holiday that comes and goes, I become more aware of how much holidays are all about the kids. Guess my perspective has changed some.
Over the past month, I have found myself wishing away these last weeks of my pregnancy. But then I think twice and realize that I am wishing away a holiday season with Lilah and Graham. Plus, I realize that carrying an unborn baby in my tummy, despite all my complaints, is way less work than caring for a newborn. All the diapers and feedings and laundry and willing the child to sleep! I think I'll take the indigestion and back pain for a few more weeks.
I have been VERY busy lately with my freelance work, so I have been trying extra hard to keep the kids busy. Now, I wouldn't say that it's worked, but I think they like the new activities. Here are a few that I took pictures of.
When I was a kid, I was VERY into rubber stamps. I still have a huge tub of stamps and ink pads that I never use. I let the kids pick a few out and stamp their little hearts out.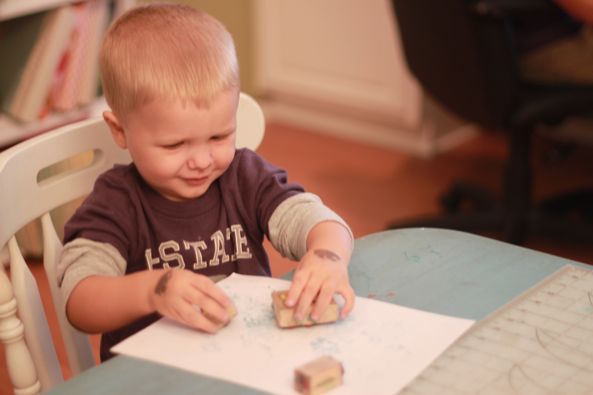 About 10 minutes in, they decided that it would be more fun to stack them up and build towers. Knocking them over was just as much fun as getting ink all over our hands and arms.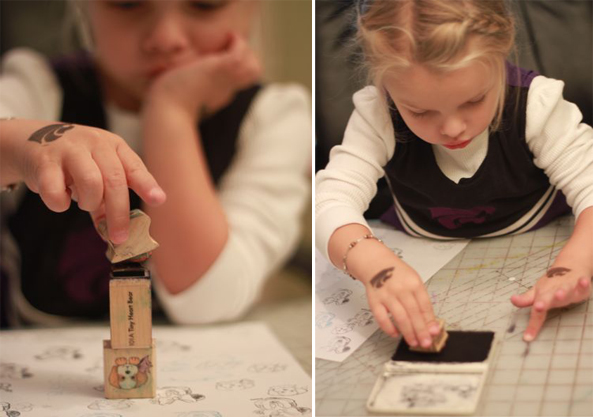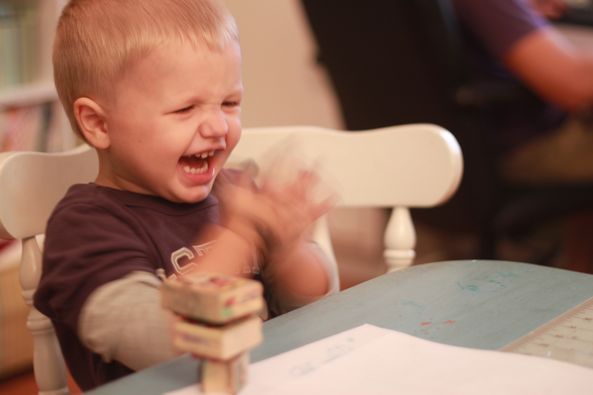 Last week, during the Halloween madness, I thought I would let the kids attempt to make some treats. My first thought was sugar cookies, which Lilah and I did last year, but remembered how much work that was for me. So I decided I'd try some other treats that looked simple enough. It went pretty well, but again, their attention span wasn't nearly as long as I hoped. They had the most fun placing eyes on whatever treats we made.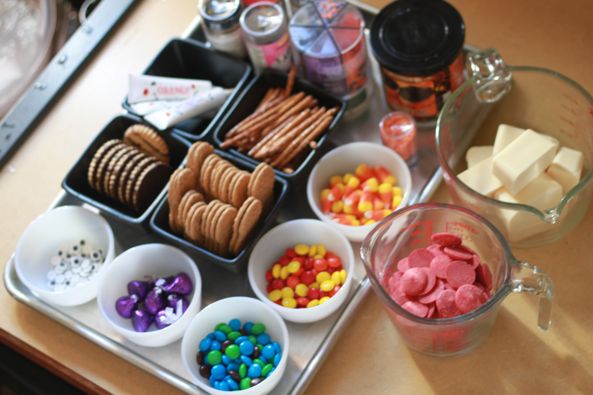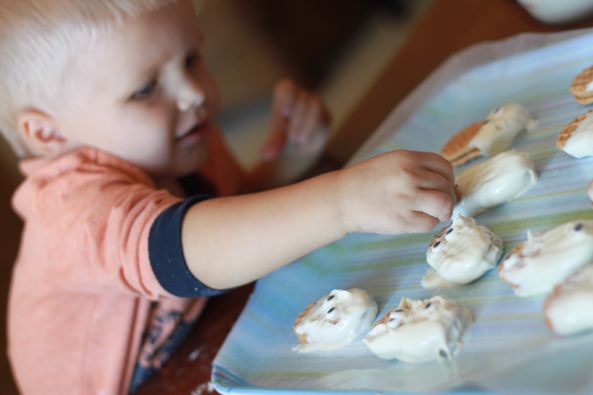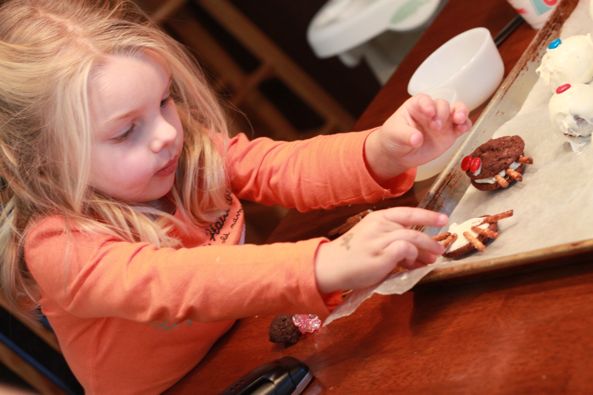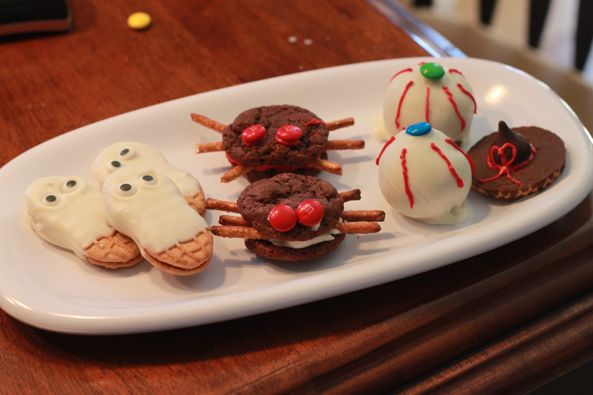 We made ghosts (out of Nutter Butters), spiders (out of chocolate cake mix cookies, pretzels and M&Ms), witches hats (out of Keebler cookies and Hersey Kisses) and "spooky" eyeballs (Bakerella's cake balls).
And because Lilah has been interested in sorting things lately, I got out her boxes of crayons and let her sort them by color. We used a muffin tin and she sorted through them all two times. Graham "sorted" too, but not with much method. This drove Lilah up the wall but kept them both occupied as she "taught" him how to separate them.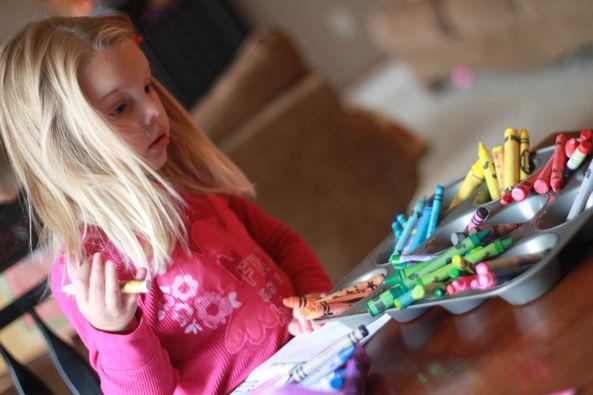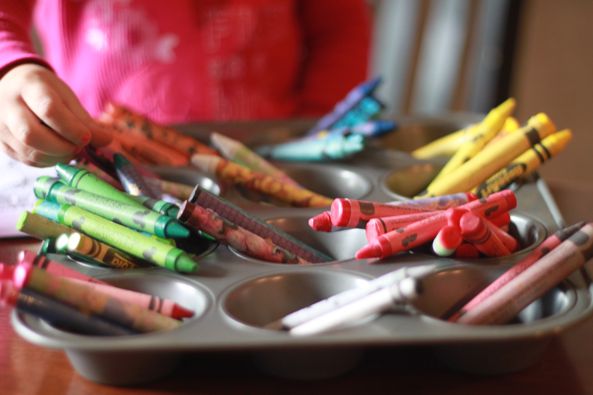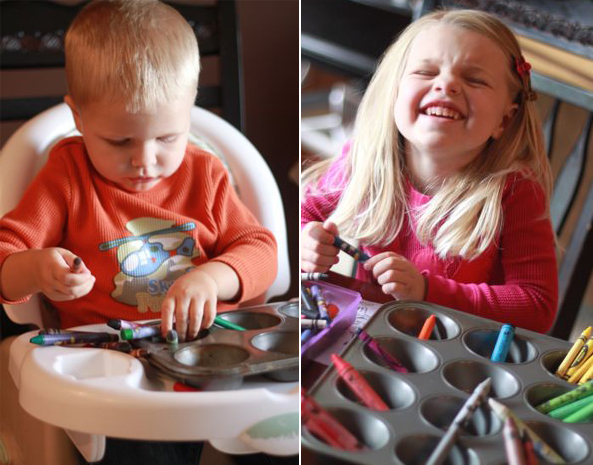 So, keeping them busy often keeps me busy. But at least I feel better about the hours that I don't give them any attention because I am stuck at my computer.