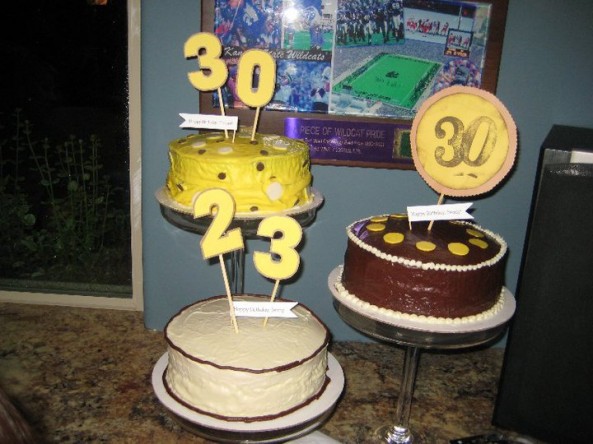 This summer, my husband, my brother and his wife are all celebrating their thirtieth birthdays. (Thirty?? What? My husband is turning thirty?!?!? When did we get this old?) Of course, I am happy to celebrate with them as I have two more years before I hit that milestone.
Together, we all threw a party to help the three of them through this. Of course, good times were had by all. But I have to tell you the story of the cakes.
The damn cakes.
First of all, let me tell you that I was determined to buy the cakes, not to make them. For two reasons. One: I know very little about decorating cakes and have been "winging it" through each of my kids birthday so far. Two: I didn't need that added stress in my life. However, when it turned out that my kids were going to their grandparents for a few days and I saw what the bakery wanted for three separate birthday cakes, I changed my mind. I thought, I've got plenty of time. I'll just use a box mix and do something simple. No problem.
Right.
I made these cakes the night before. Mistake number one, perhaps? And, I used frosting from a can. Mistake number two? We'll just say that Martha would not be proud of my cake decorating skills. Oh well. At least they tasted good. Didn't stop me from eating two pieces today. (Hey, I'm eating for two, remember??)
But I do have to tell you that I did learn one thing in the process. I always get really frustrated when baking the layers of a cake because they always bake with a raised dome in the middle. Which I then have to chop off and discard (read: eat while waiting for cake to cool). But I feel like this wastes cake and my layers aren't as tall as I want them after I level off the lump.
So, I googled it. And it turns out that I wasn't the only one who was devastated by the dome. All it takes is some old wet towels wrapped around your cake pan as it bakes. Who knew?? I guess the moisture keeps the outside cool so it doesn't cook as fast as it normally would. Follow these directions and you'll get a perfectly level cake. Worked for me six times.
At least something worked.
Anyways, clearly the party was still a blast without beautiful cakes. Life is not about perfect cakes. Life is about good friends and good memories. Here's to thirty more years of that with three of my favorite people in the world. Happy Birthday to Trever, Jenny and Brady! Love you guys!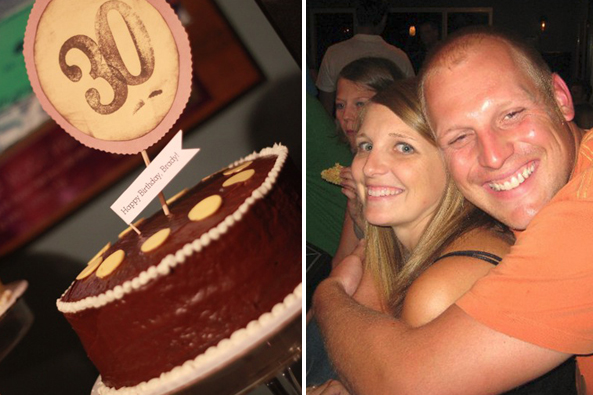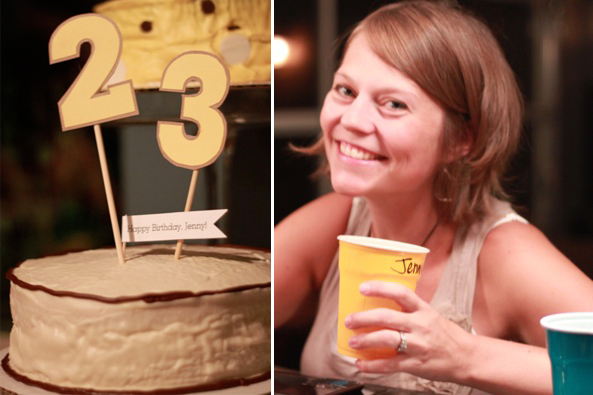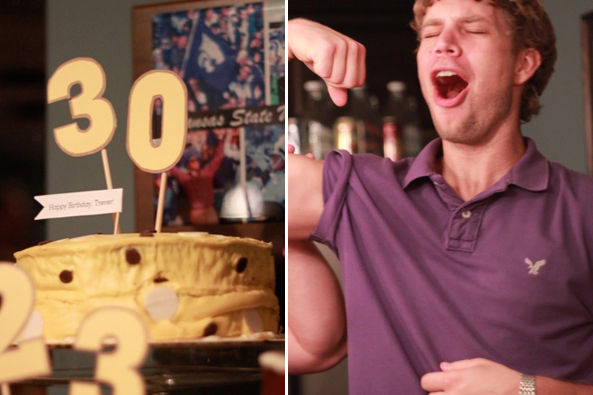 Oh, and to explain the "23" atop Jenny's cake:
What woman wants to openly admit their true age, right? For this reason, I taught my daughter to say that her mommy and Aunt Jenny are "twenty-twee" whenever prompted. In fact, according to her, I turned 23 on my last two birthdays!! Love you, Lilah!