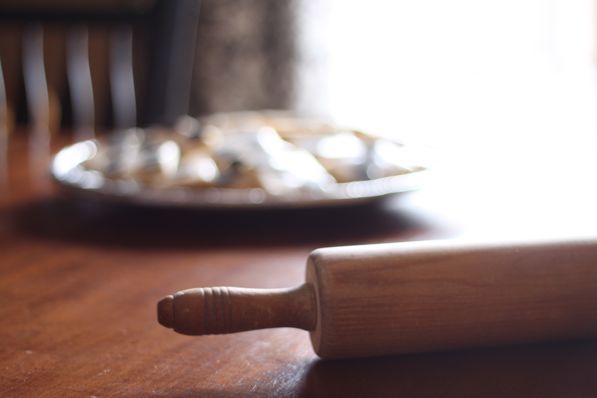 For Christmas, my Grandma passed on her old rolling pin to me. It's old and wooden. And broken in. And beautiful. It's incredibly smooth and I can still taste all the homemade noodles that she rolled out with it for me and my family.
(Have you ever made homemade noodles? It's really not as difficult as you may think. I've made them several times during the holidays and found it to be very rewarding.)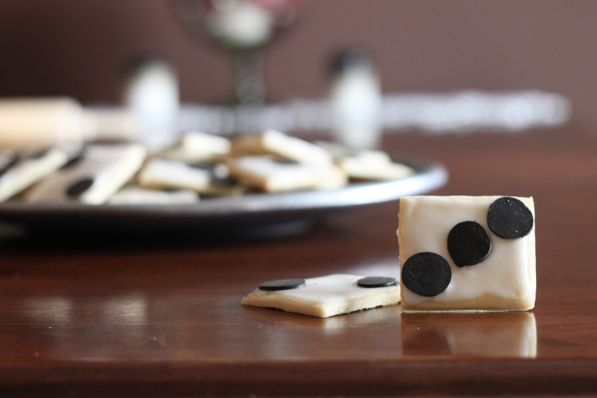 I used it the first time last week to make sugar cookies. It was my month to host my Bunco group, so I decided to attempt to make dice cookies. Not once did my dough stick to my new rolling pin!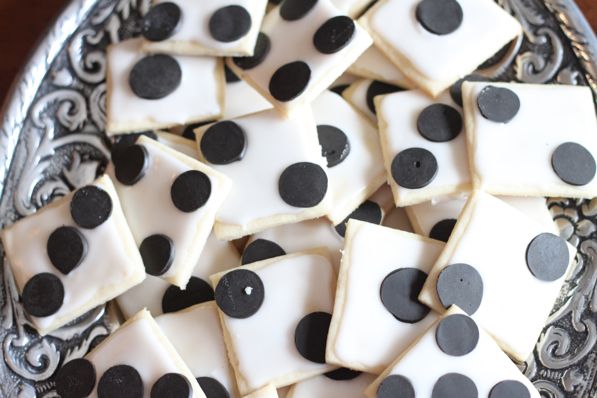 For the cookie shapes, I just used a pizza cutter to cut the dough into 2″-ish strips, then cut them again the other direction with a spatula. Simple enough. I make my frosting from powdered sugar and a little bit of milk. The dice "dots" are made from little spoon-drops of melted chocolate that have been pressed between wax paper. I think if I were doing it again, I might attempt to just use chocolate chips, melt them somehow (in the oven?) and press the wax paper over them the same way.
Anyways, I know that there are a million recipes out there for sugar cookies. And everybody prefers a different kind of sugar cookie. Me, I like them all. The fat, creamy kind. The thick, sugary kind. And especially the Lofthouse kind. I don't discriminate.
Below is the recipe I use. It's from my Better Homes and Gardens Cookbook. And I have used it so many times that the page is all splattered with bits of dough and icing and food coloring.
2/3 c. butter, softened
3/4 c. sugar
1 t. baking powder
1/4 t. salt
1 egg
1 T. milk
1 t. vanilla
2 c. flour
Beat butter on medium for 30 seconds. And sugar, baking powder and salt. Once combined, beat in egg, milk and vanilla. Then beat in as much flour as you can with mixer – then the rest by hand. Roll dough 1/8″ think. Bake cookies for 7-8 minutes at 375º. Let cool before frosting. Yum!
And, while I have my recipe books out, I'll share my noodle recipe too:
Sift together 2 1/2 c. flour and a pinch of salt. Add 2 eggs, 1/2 c. milk and 1 T. butter. Knead until smooth (~5 min). Let rest in covered bowl for 10 minutes. On floured surface, roll 1/8″ or 1/4″ thick. Cut and allow to air dry overnight.
Thanks, Grandma!